Current Projects
SeaTrust Institute Works both Globally and Locally. We believe that both scales are mutually reinforcing and symbiotic. In fact, Local to Global and Back Again (sm) is a signifying title that holds the SeaTrust Institute mark.
At a global level, we collaborate with partners in the United Nations Framework Convention on Climate Change (UNFCCC) to find durable solutions to building global resilience to climate change. In our partnership with Nurses Across the Borders Humanitarian Initiative (NABHI) as Co-Chairs of the Coalition on Health and Environment: Climate Change Initiative, we work to bring health to the heart of the climate change discussions. Our partnership with NABHI also involves capacity building for climate change adaptation through training and empowering nurses in local areas throughout the world to contribute as leaders to regional climate and health strategies. We begin in Africa, but the work is transferrable globally.
The research Consortium on Climate Change and Population Health is an invitational group of active researchers working across disciplines to co-create knowledge that can be used in climate change decisions. Using health as an indicator, these researchers combine physicial, biological, engineering and social science in the quest for innovative new ways to build resilience to climate change as communities everywhere struggle with adaptation issues.
SeaTrust Institute also works at a local level. We consult on coastal policy issues, offer educational programs and develop projects including improvements to water quality, and nature based tourism program that blends western science with Native American interpretation using traditional ecological knowledge. We are working in 2016 on projects including: AWARE | Vanuatu - on climate change adaptation and training women and youth as community leaders; in partnership with the Isle of Man, we are developing strategies and collaborations for island states on best adaptation practices; the AWARE family of educational programs launches for all levels of students and educators, governments, business and industry and specific country AWARE projects.
Our educational projects extend beyond community workshops. Working with local researchers, we apply our global policy work and on the ground vulnerability and adaptation scenarios to local issues and conditions. By offering selected graduate students a place to develop environmental adaptation projects related to our local area, we "bring home" the global knowledge and input for the benefit of our own local communities.
You are invited to investigate our newest addition in support of our committment to forefront research processes to advance Local to Global and Back Again (sm)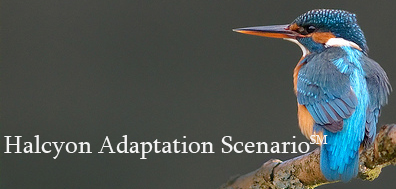 Information on this process can be found at this link or through clicking on the kingfisher.