Sea Level Rise in the United States
According to Ben Strauss at Climate Central, a review of low lying coastal lands in the U.S. has been long overdue. Ten years out of date, the baseline information we are using to address coastal vulnerabilities to changes in sea level rise leaves significant portions of the population at risk. Using local high tide levels, instead of elevation above sea level, risk estimates indication that nearly 3.7 million U.S. citizens live within 3 feet, 3/8 inches (1 metre) of their local high tide. Strauss and his team used Vdatum, a NOAA-developed tidal-height model, to show that the mean high tide around the US is at an elevation of between –0.2 and 2.8 m. High-tide levels depend on the local difference in mean sea-level and tidal amplitude.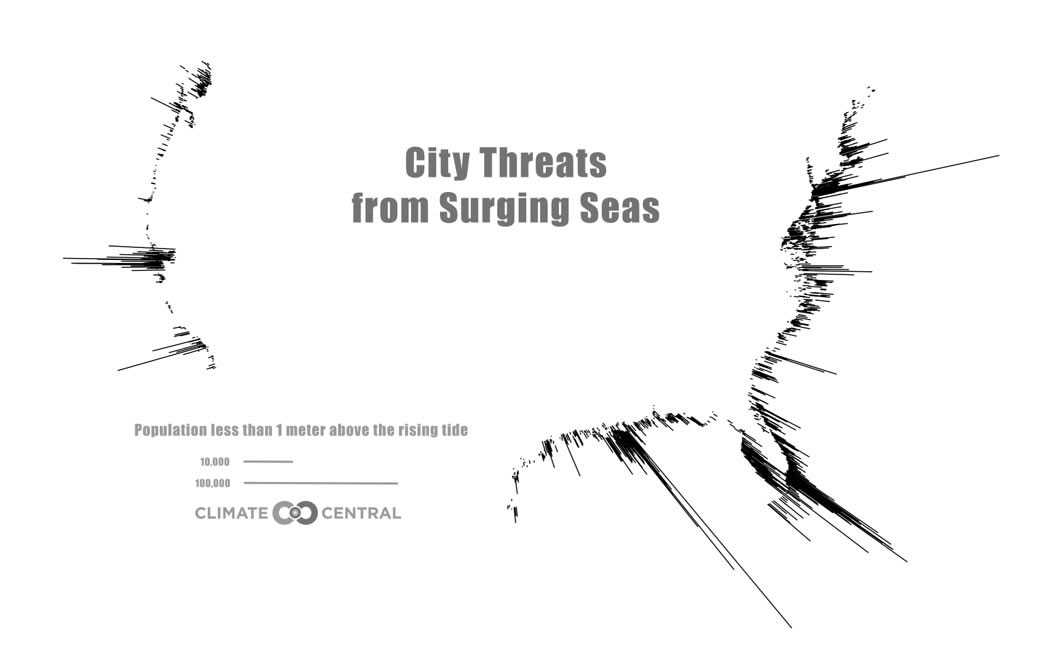 Where you live does matter. Florida is shown to have the highest number of vulnerable people, followed by Louisiana, California, New York and New Jersey. On a city scale, particularly large populations are exposed in New York City and Long Island; the New Jersey shore; the Norfolk, Virginia area; near Charleston, South Carolina; coastal cities across Florida, especially in the south-east and the Tampa area; New Orleans; the San Francisco Bay area and San Joaquin Delta; and greater Los Angeles. Strauss notes that in California, when integrated with storm surge patterns, coastal floods may reach heights more swiftly than in other areas in the contiguous US
.For more on the technical measurements for this important issue, see Benjamin H Strauss, Remik Ziemlinski, Jeremy L Weiss and Jonathan T Overpeck in the January 2012 edition of Environmental Research Letters:
Tidally adjusted estimates of topographic vulnerability to sea level rise and flooding for the contiguous United States
.